Inspiring Golf In A Pristine Natural Setting
Sculpted from the rolling hills of Solon in Northeast Ohio, Signature of Solon Country Club's spectacular par-72, 7,178-yard championship layout was designed by award-winning golf course architect Craig Schreiner in the old style, leaving the terrain completely natural.
Lush stands of mature trees and beautiful indigenous fauna frame undulating bent grass fairways and manicured greens, in perfect balance with nature – with deep roughs, expansive bunkers, and an abundance of sparkling water features creating both strategic diversity and a picturesque backdrop for golf. Dramatic views add to the tranquil ambience of the course, which offers multiple tees on each hole to accommodate golfers of all abilities.
Complementing the club's remarkable golf is an expansive golf practice facility featuring a driving range and complete short game area. A variety of golf instructional programs for juniors and adults are available from the club's team of PGA teaching professionals, along with a season-long schedule of golf leagues, mixers, tournaments, inter-club play and social golf activities.
Walkthrough
Our 18 Hole Course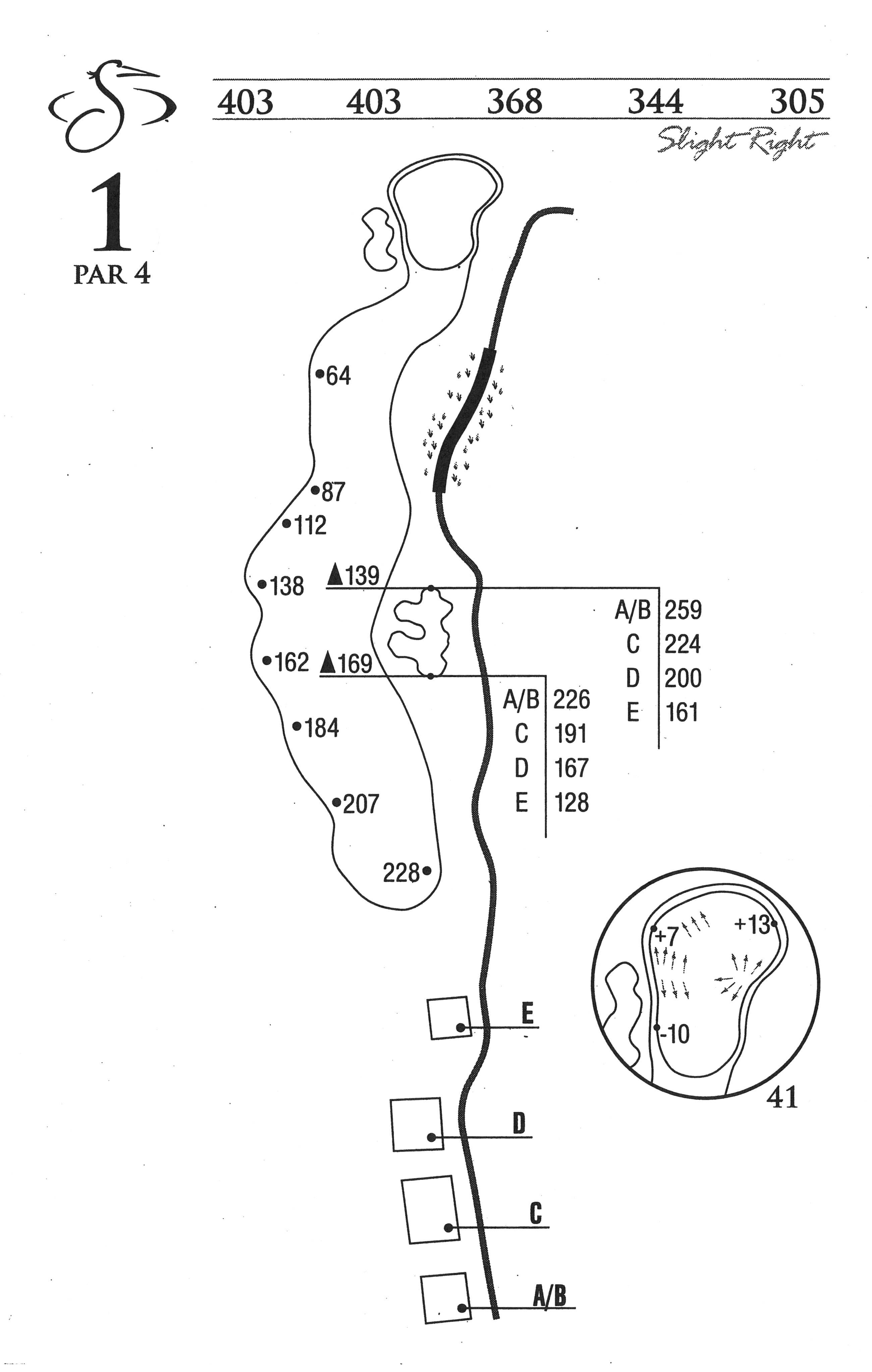 | | |
| --- | --- |
| Championship (Green) | 403 |
| Players (Blue) | 368 |
| Back (Gold) | 344 |
| Composite (Gold/Black) | 305 |
| Par | 4 |
| Handicap (Men) | 13 |
| Handicap (Ladies) | 7 |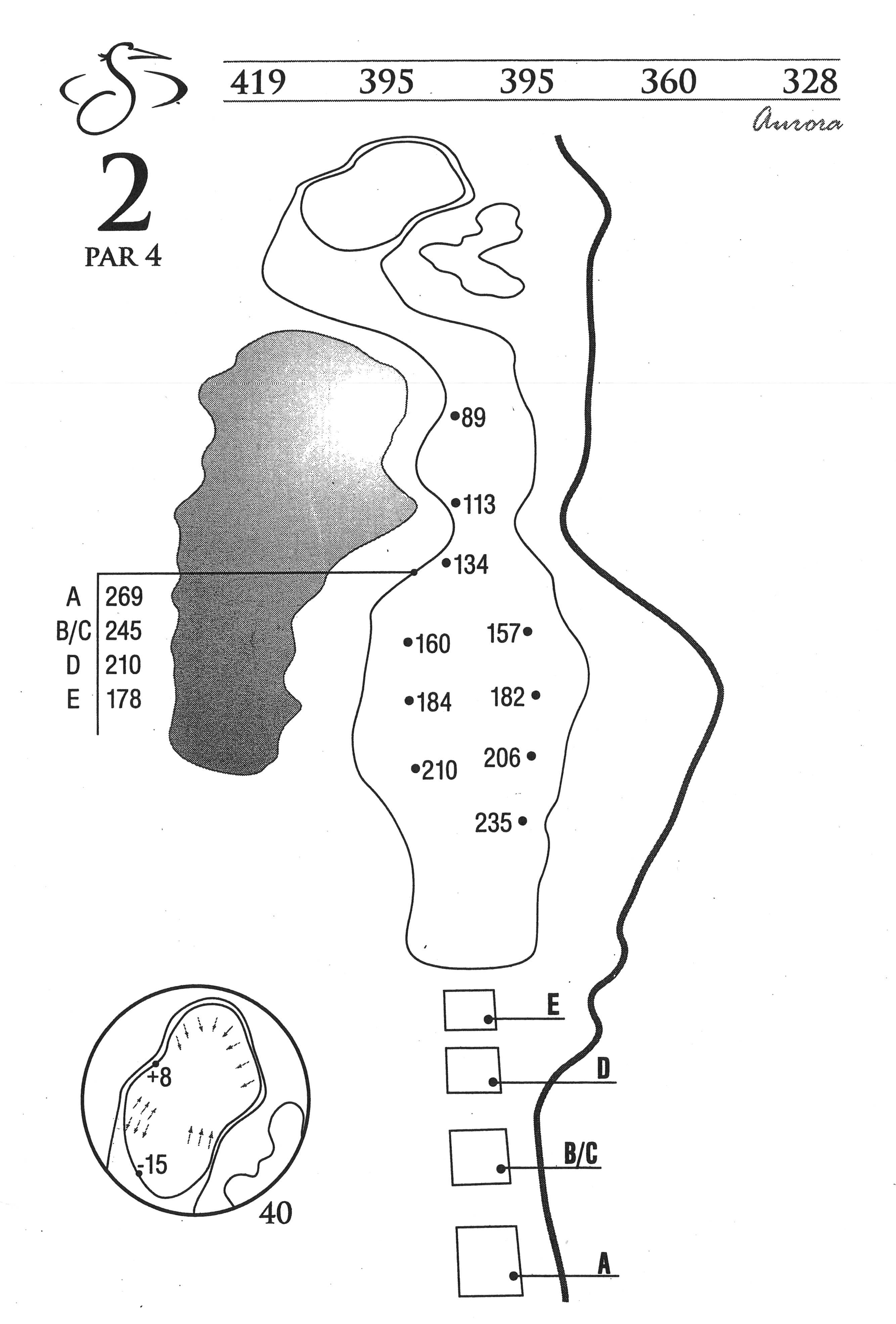 | | |
| --- | --- |
| Championship (Green) | 395 |
| Players (Blue) | 395 |
| Back (Gold) | 360 |
| Composite (Gold/Black) | 328 |
| Par | 4 |
| Handicap (Men) | 5 |
| Handicap (Ladies) | 9 |
| | |
| --- | --- |
| Championship (Green) | 181 |
| Players (Blue) | 161 |
| Back (Gold) | 146 |
| Composite (Gold/Black) | 106 |
| Par | 3 |
| Handicap (Men) | 17 |
| Handicap (Ladies) | 17 |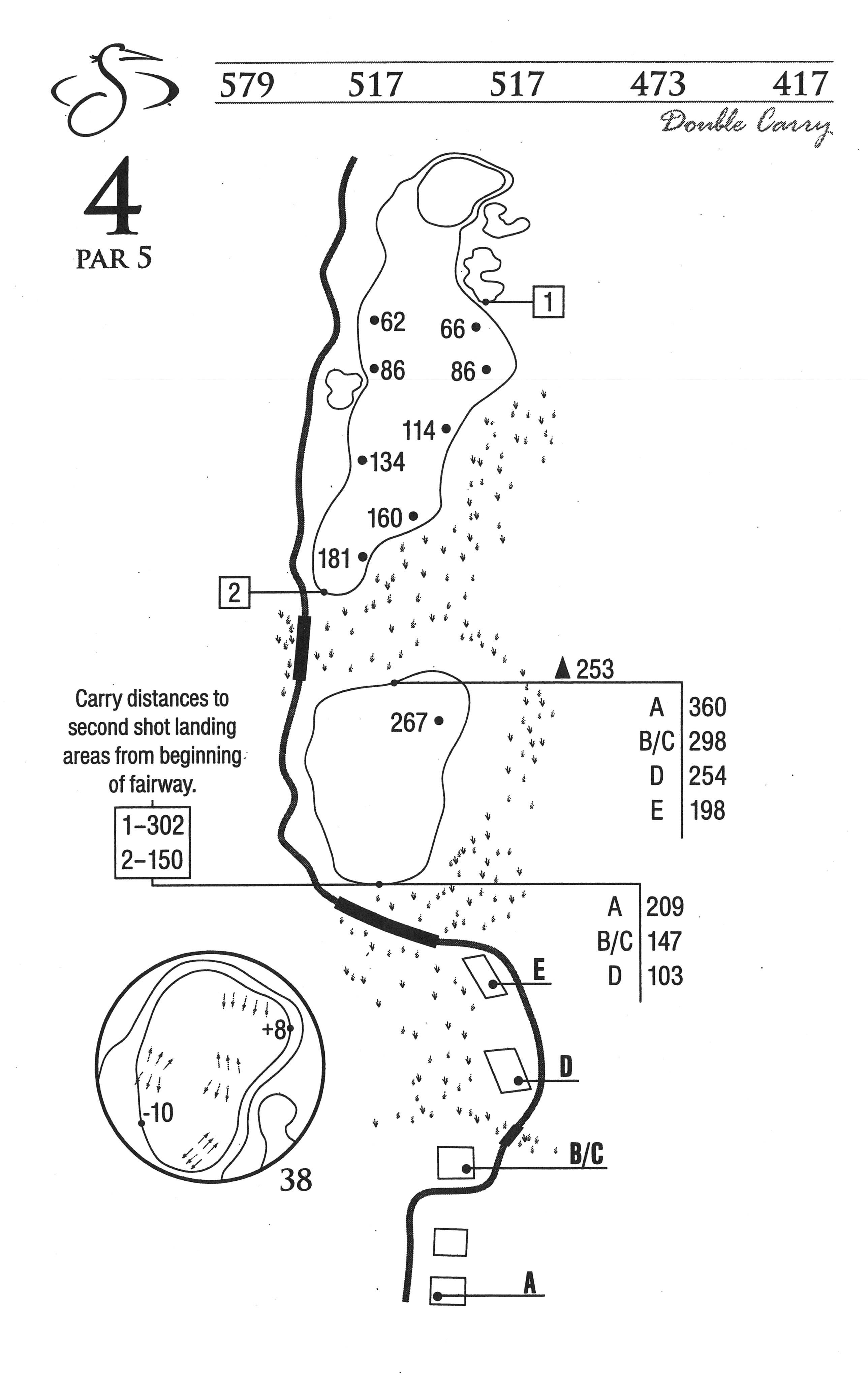 | | |
| --- | --- |
| Championship (Green) | 517 |
| Players (Blue) | 517 |
| Back (Gold) | 473 |
| Composite (Gold/Black) | 417 |
| Par | 5 |
| Handicap (Men) | 1 |
| Handicap (Ladies) | 5 |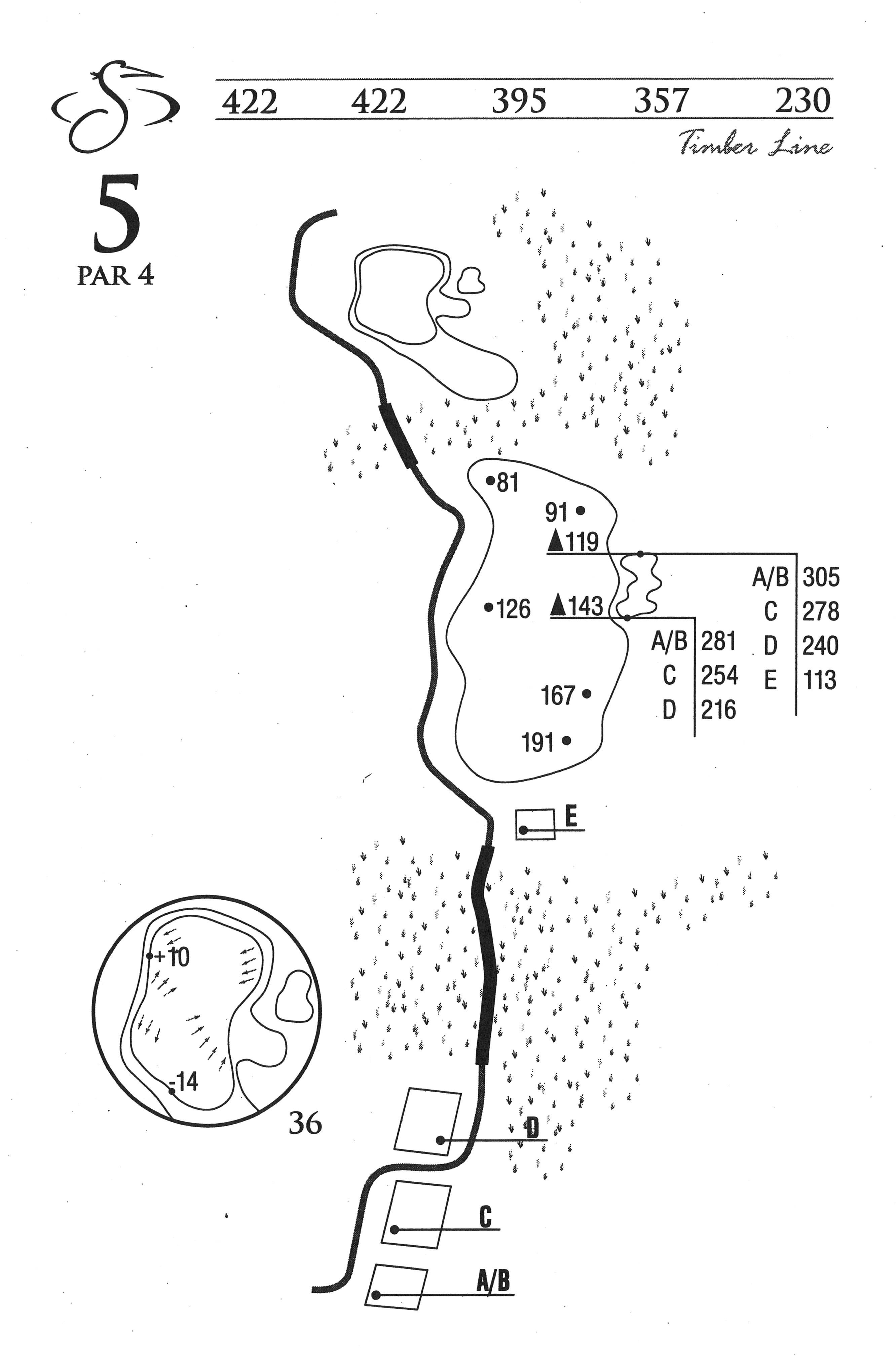 | | |
| --- | --- |
| Championship (Green) | 422 |
| Players (Blue) | 395 |
| Back (Gold) | 357 |
| Composite (Gold/Black) | 230 |
| Par | 4 |
| Handicap (Men) | 7 |
| Handicap (Ladies) | 11 |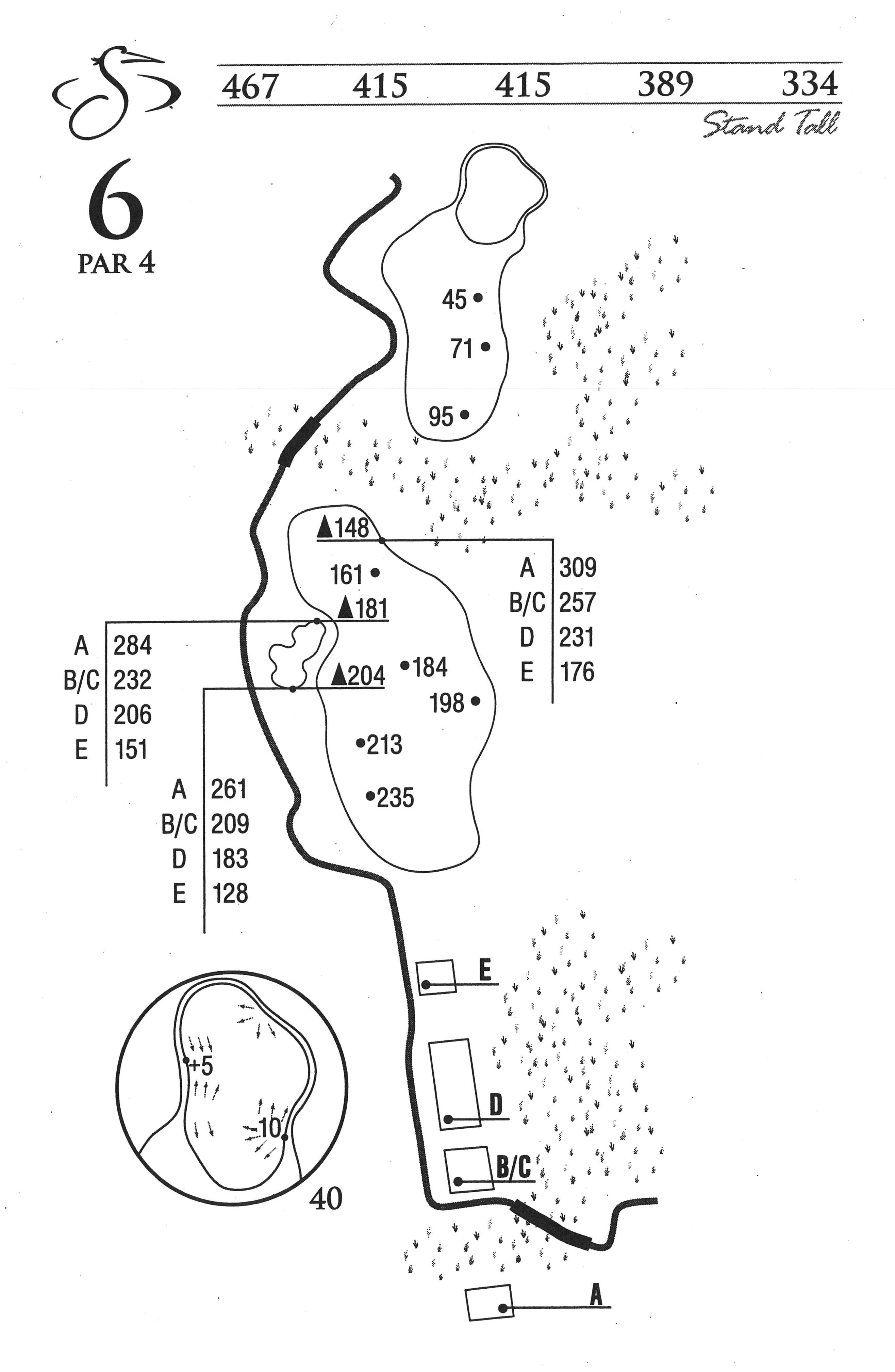 | | |
| --- | --- |
| Championship (Green) | 415 |
| Players (Blue) | 415 |
| Back (Gold) | 389 |
| Composite (Gold/Black) | 334 |
| Par | 4 |
| Handicap (Men) | 9 |
| Handicap (Ladies) | 3 |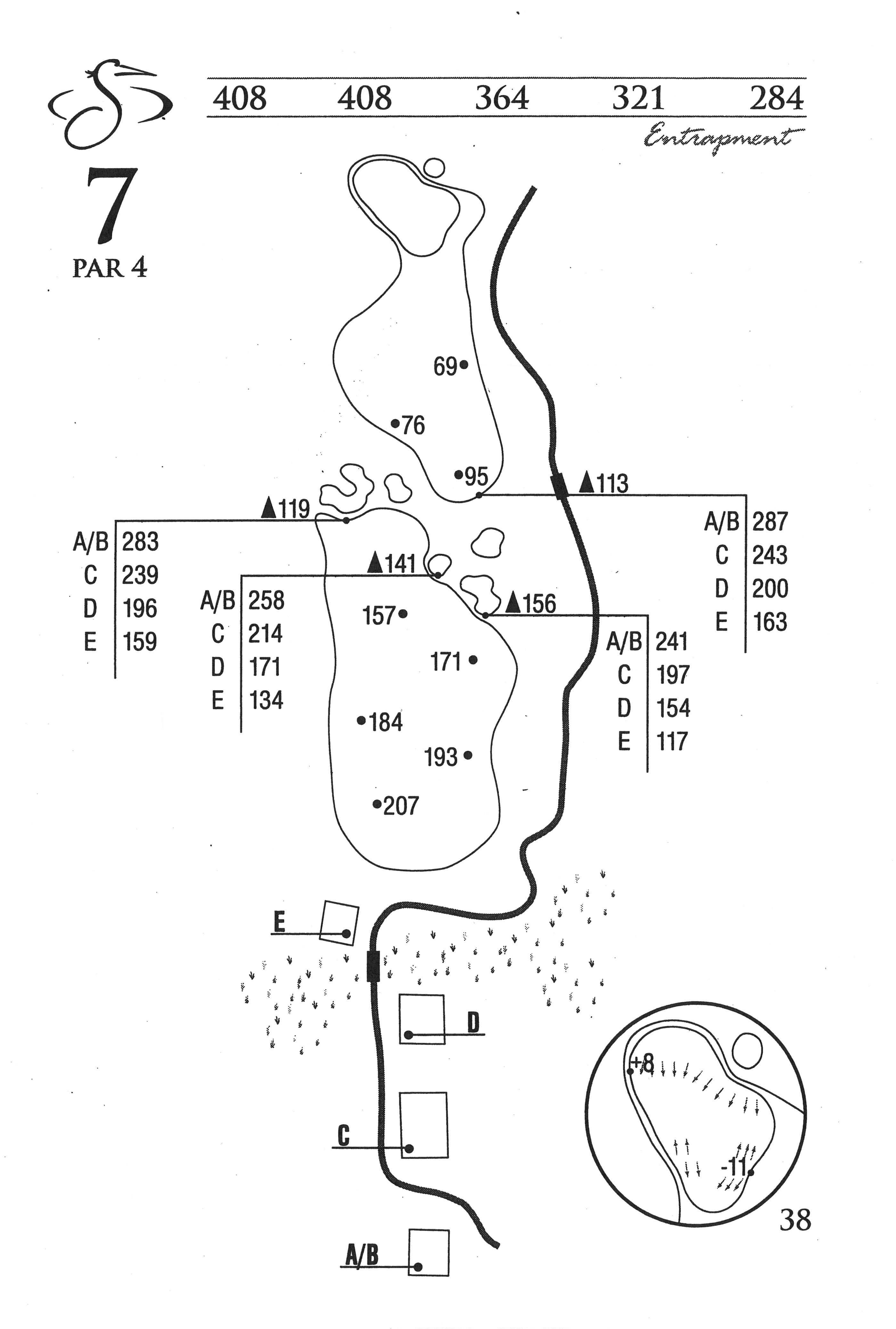 | | |
| --- | --- |
| Championship (Green) | 408 |
| Players (Blue) | 364 |
| Back (Gold) | 321 |
| Composite (Gold/Black) | 284 |
| Par | 4 |
| Handicap (Men) | 11 |
| Handicap (Ladies) | 13 |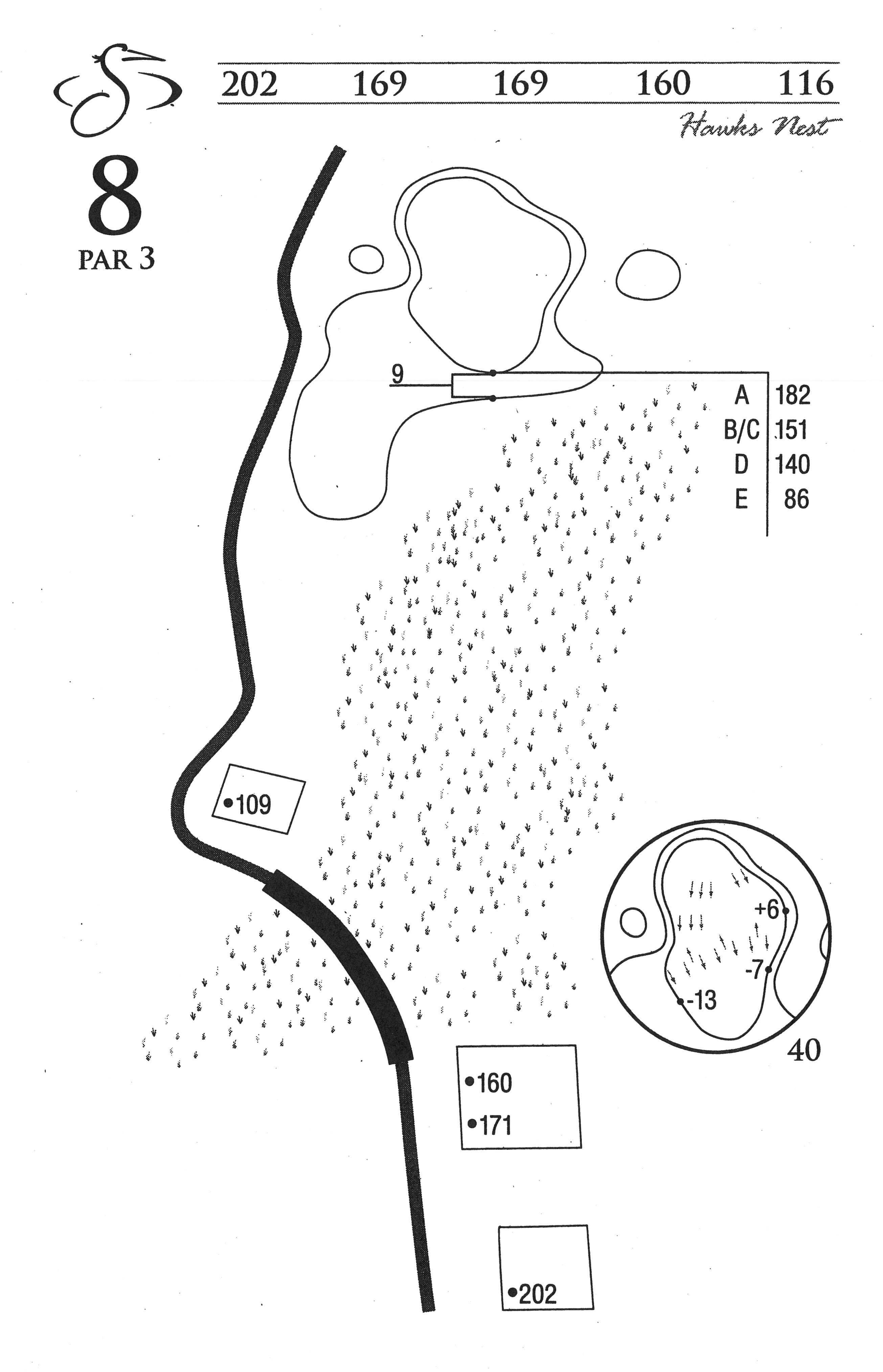 | | |
| --- | --- |
| Championship (Green) | 169 |
| Players (Blue) | 169 |
| Back (Gold) | 160 |
| Composite (Gold/Black) | 116 |
| Par | 3 |
| Handicap (Men) | 15 |
| Handicap (Ladies) | 15 |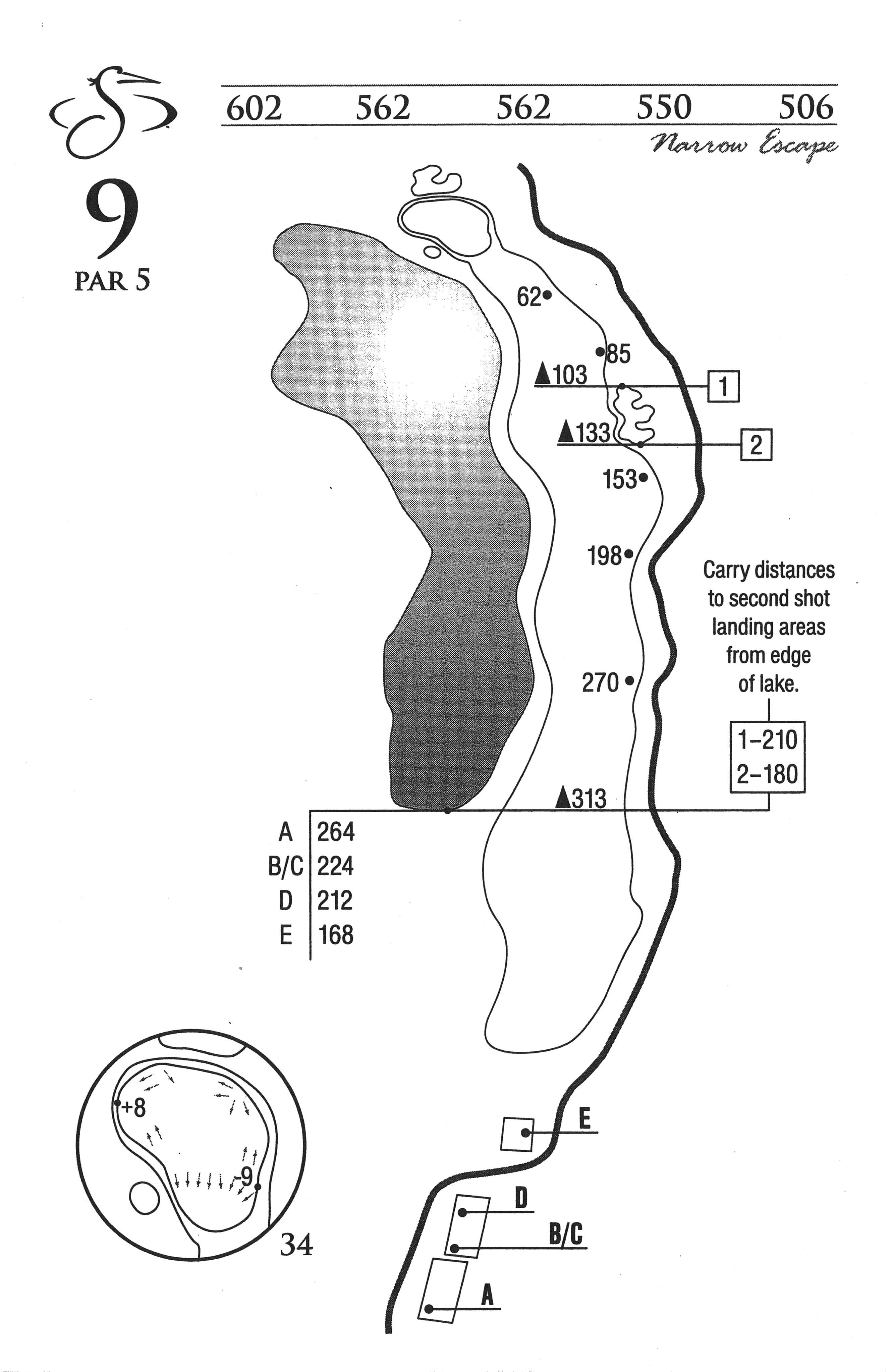 | | |
| --- | --- |
| Championship (Green) | 602 |
| Players (Blue) | 562 |
| Back (Gold) | 550 |
| Composite (Gold/Black) | 506 |
| Par | 5 |
| Handicap (Men) | 3 |
| Handicap (Ladies) | 1 |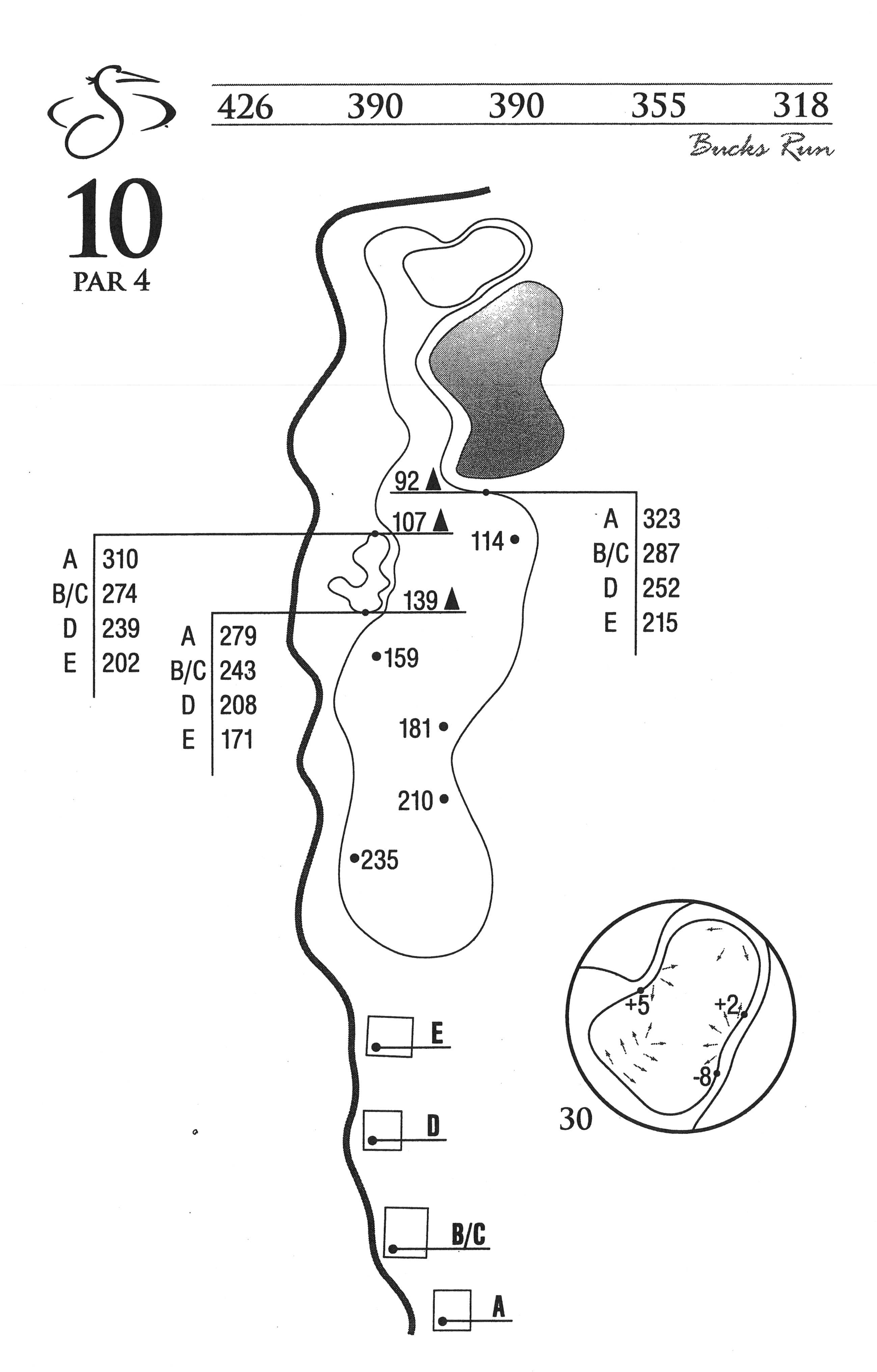 | | |
| --- | --- |
| Championship (Green) | 390 |
| Players (Blue) | 390 |
| Back (Gold) | 355 |
| Composite (Gold/Black) | 318 |
| Par | 4 |
| Handicap (Men) | 4 |
| Handicap (Ladies) | 2 |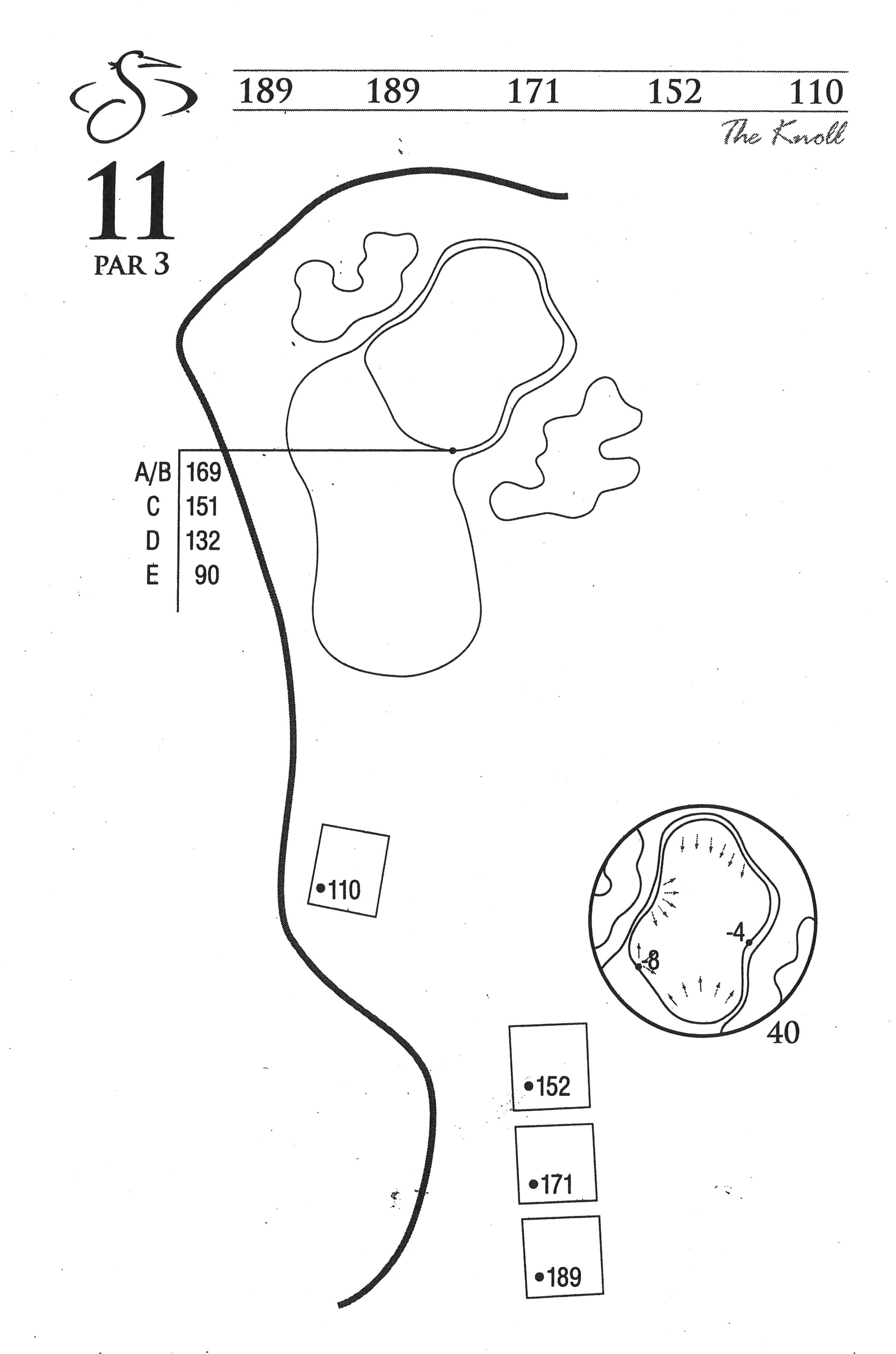 | | |
| --- | --- |
| Championship (Green) | 189 |
| Players (Blue) | 171 |
| Back (Gold) | 152 |
| Composite (Gold/Black) | 110 |
| Par | 3 |
| Handicap (Men) | 18 |
| Handicap (Ladies) | 18 |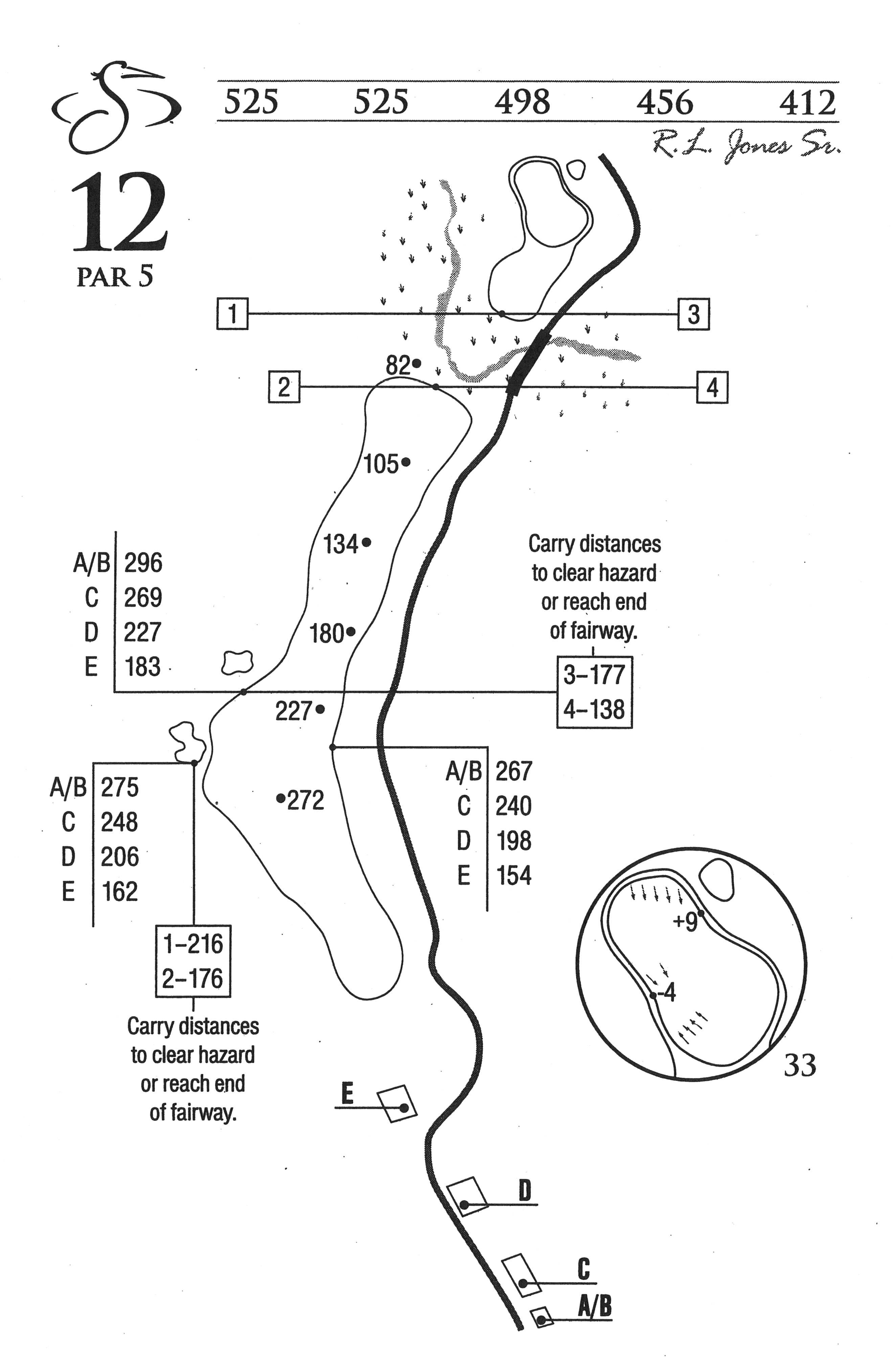 | | |
| --- | --- |
| Championship (Green) | 498 |
| Players (Blue) | 498 |
| Back (Gold) | 456 |
| Composite (Gold/Black) | 412 |
| Par | 5 |
| Handicap (Men) | 16 |
| Handicap (Ladies) | 12 |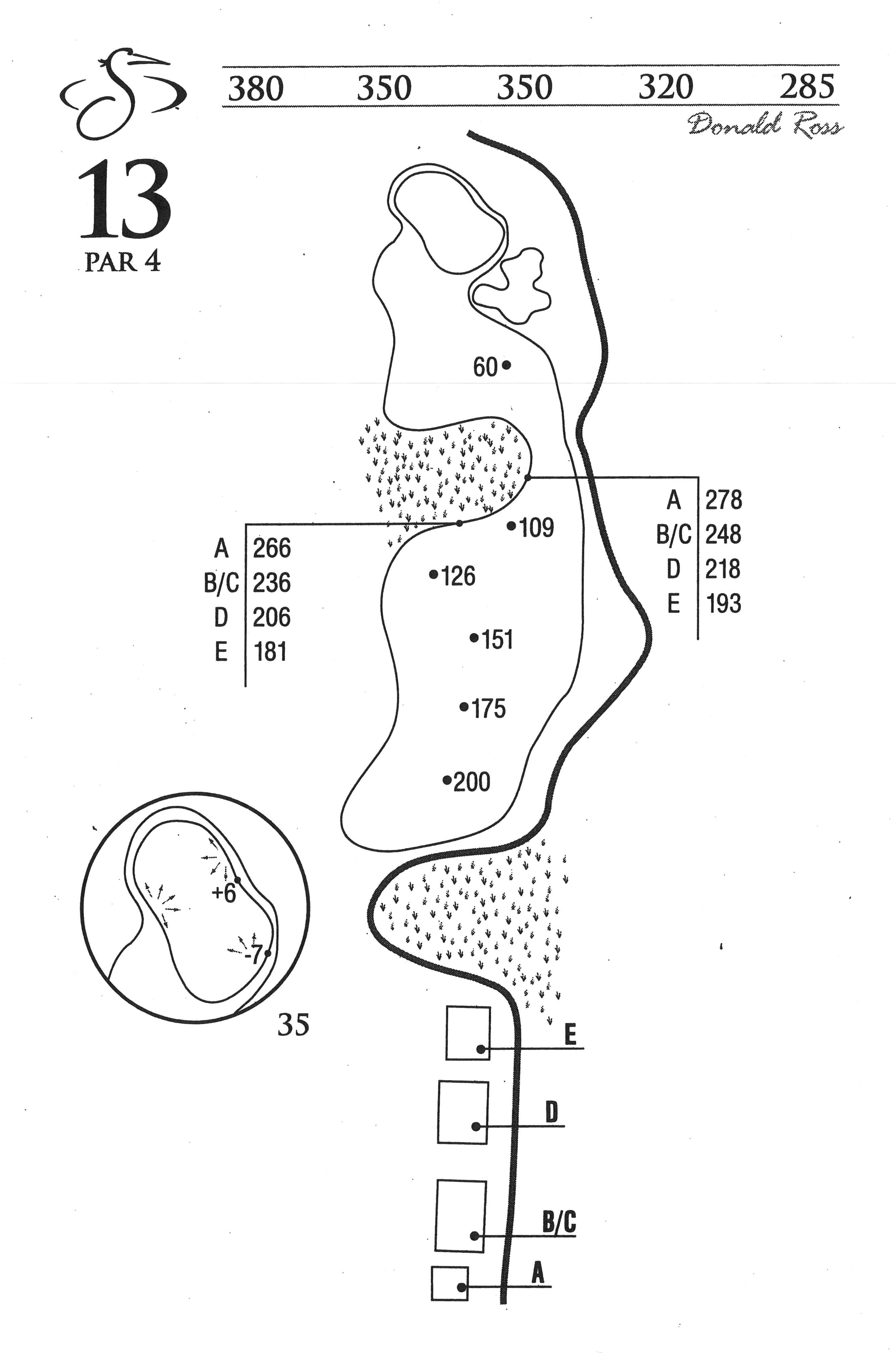 | | |
| --- | --- |
| Championship (Green) | 380 |
| Players (Blue) | 350 |
| Back (Gold) | 320 |
| Composite (Gold/Black) | 285 |
| Par | 4 |
| Handicap (Men) | 12 |
| Handicap (Ladies) | 10 |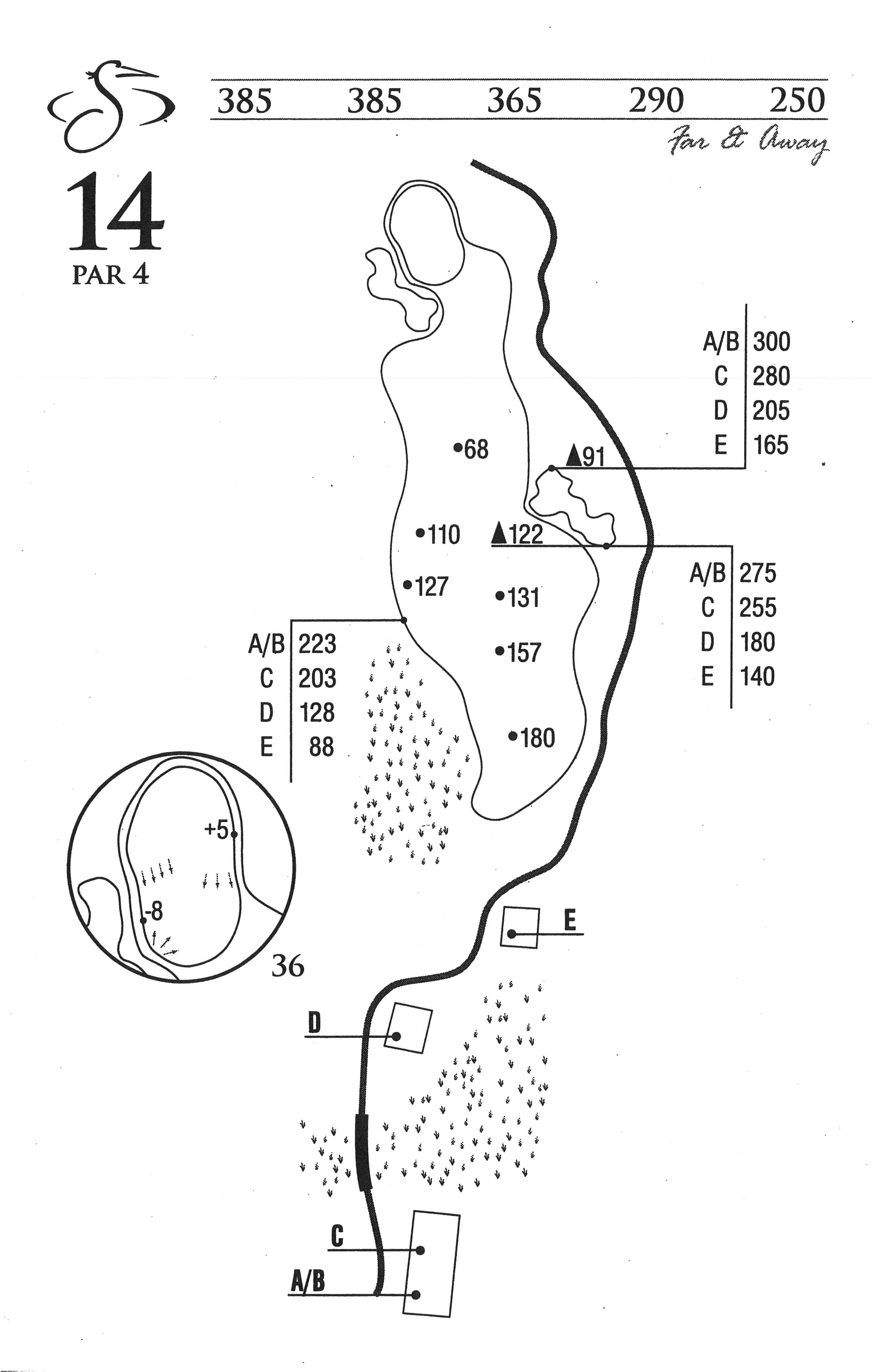 | | |
| --- | --- |
| Championship (Green) | 365 |
| Players (Blue) | 365 |
| Back (Gold) | 290 |
| Composite (Gold/Black) | 250 |
| Par | 4 |
| Handicap (Men) | 14 |
| Handicap (Ladies) | 14 |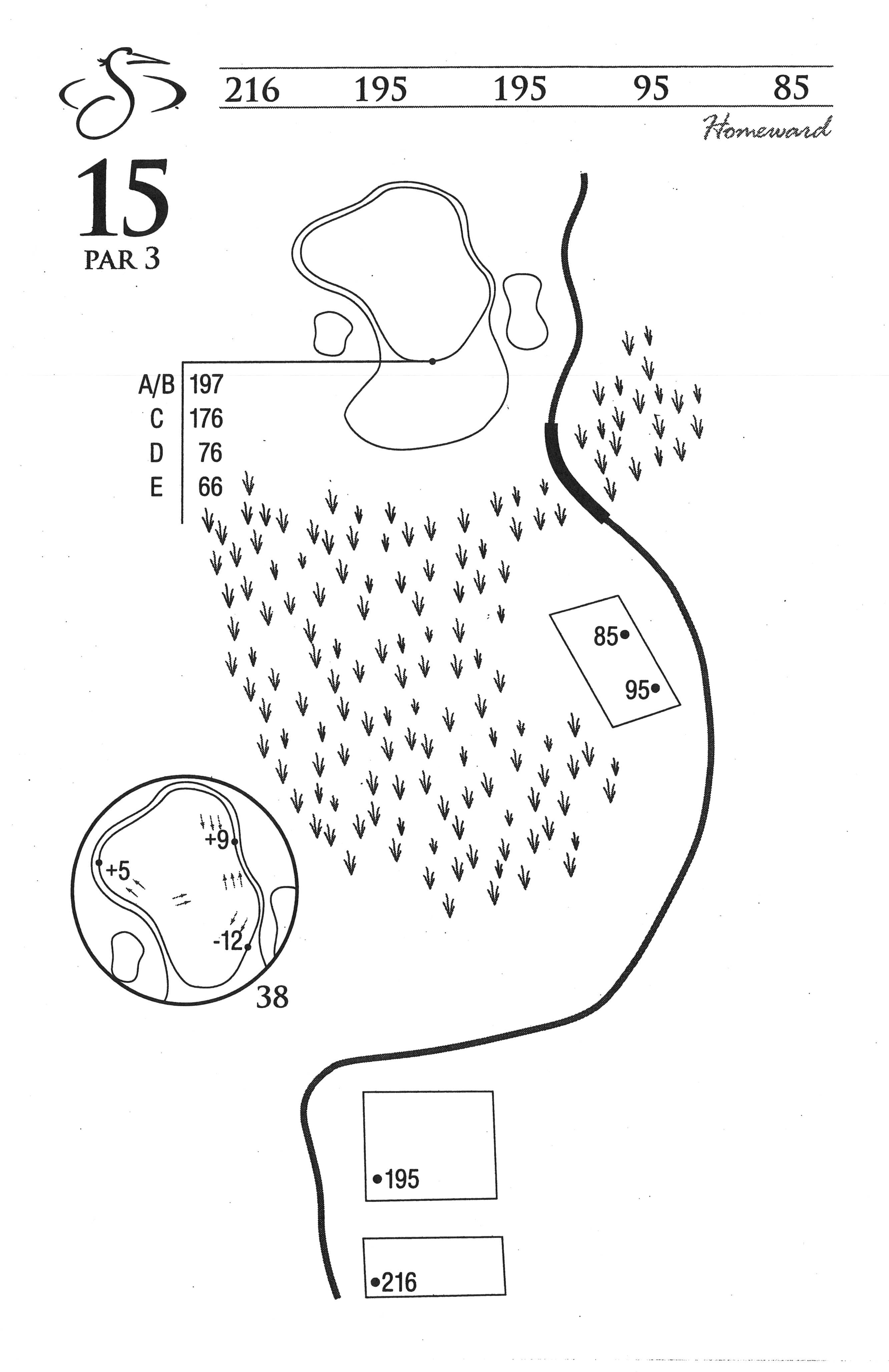 | | |
| --- | --- |
| Championship (Green) | 216 |
| Players (Blue) | 195 |
| Back (Gold) | 95 |
| Composite (Gold/Black) | 85 |
| Par | 3 |
| Handicap (Men) | 10 |
| Handicap (Ladies) | 16 |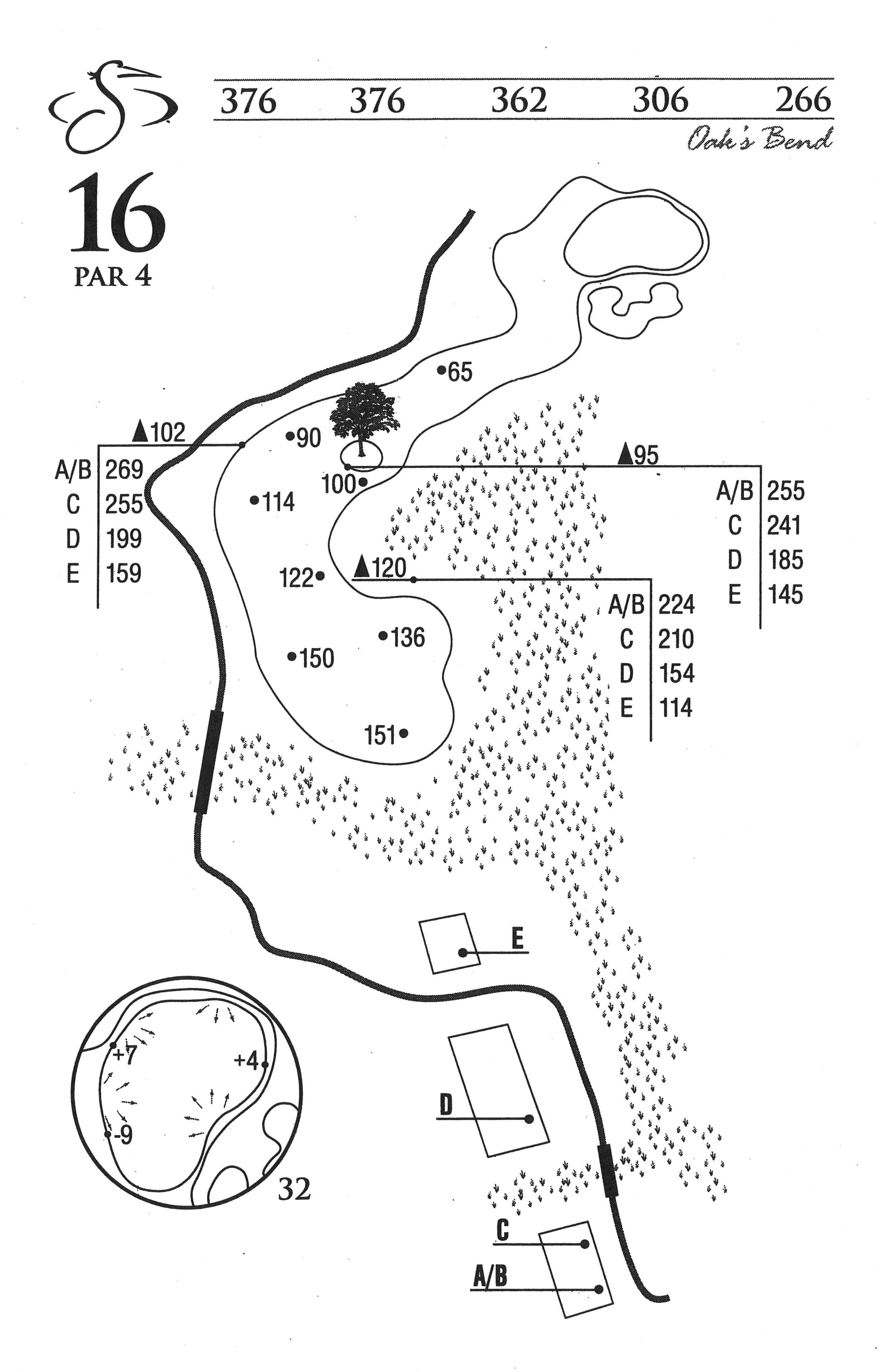 | | |
| --- | --- |
| Championship (Green) | 362 |
| Players (Blue) | 362 |
| Back (Gold) | 306 |
| Composite (Gold/Black) | 266 |
| Par | 4 |
| Handicap (Men) | 2 |
| Handicap (Ladies) | 8 |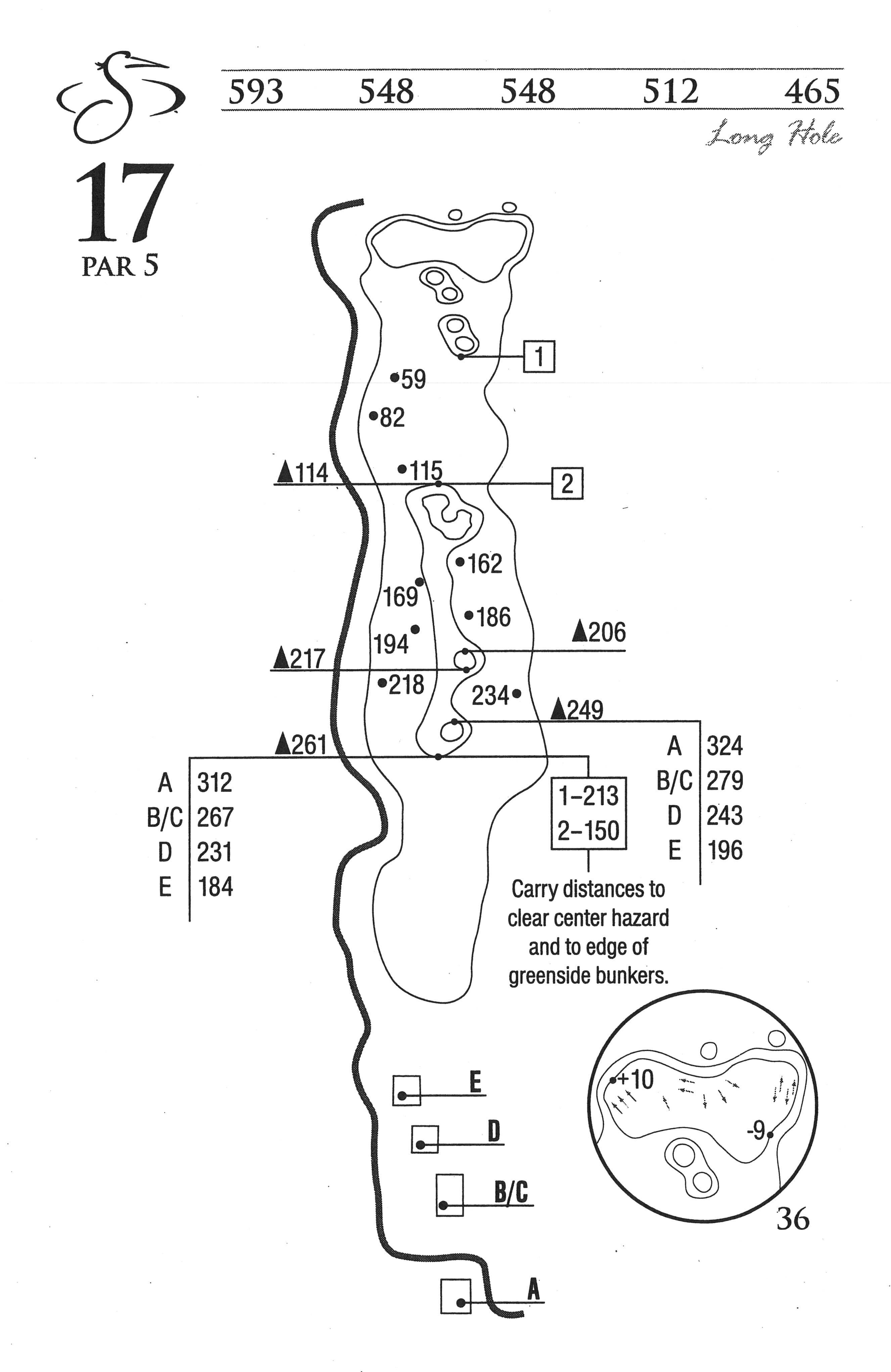 | | |
| --- | --- |
| Championship (Green) | 593 |
| Players (Blue) | 548 |
| Back (Gold) | 512 |
| Composite (Gold/Black) | 465 |
| Par | 5 |
| Handicap (Men) | 8 |
| Handicap (Ladies) | 4 |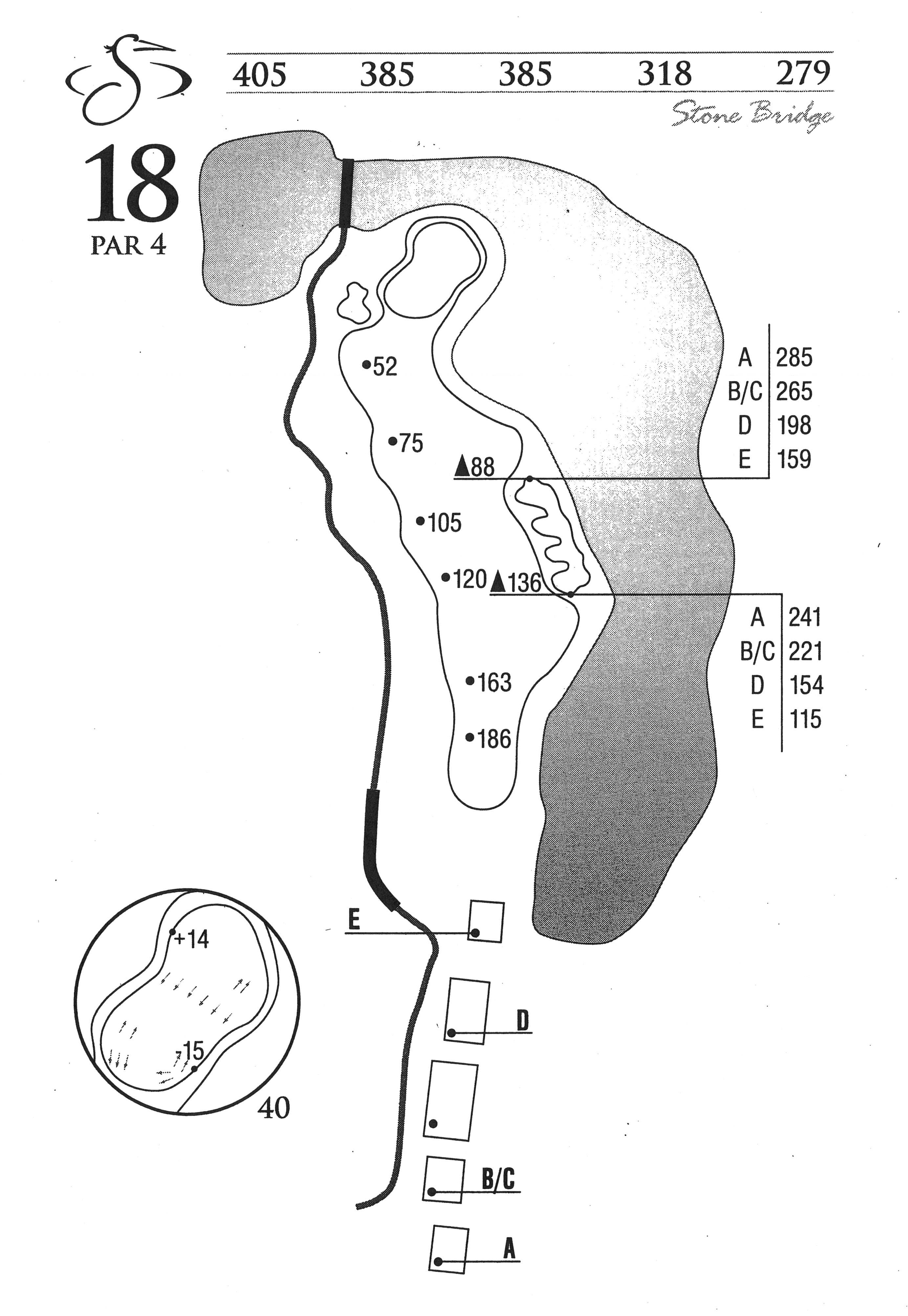 | | |
| --- | --- |
| Championship (Green) | 385 |
| Players (Blue) | 385 |
| Back (Gold) | 318 |
| Composite (Gold/Black) | 279 |
| Par | 4 |
| Handicap (Men) | 6 |
| Handicap (Ladies) | 6 |